Power Battery Backups
UPS Services
PREVENTIVE MAINTENANCE, REPAIRS, AND BATTERIES
At Wholesale Computers & Technology, we are happy to offer you a new line of products to protect your computers and other equipment investments.
We offer many options to add battery backups to your home or office.
From an assortment of UPSes for computers and network IT systems to turnkey solutions with installation, circuitry check, grounding and over current protection.
We can even offer you Emergency Rental Systems.
Our systems are completely re-certified.  
They all have brand new batteries and all of them come with a 15-month warranty.
Some of our new services include:
Repairs OnSite
UPS trades for newer models
Surge suppression equipment
Custom designed solutions for your enterprise
Battery Replacement.
Most smaller UPSs have sets of batteries in a tray or case. We offer a complete plug-and-play solution
For larger UPS systems, we assemble large batteries onsite and recalibrate the equipment
Some of our Brands, Models, Comments & Pricing
APC – BR1300LCD – Better Quality LCD Brick UPS – $69
APC – SUA1000R2X180 – Server Grade UPS w/mgmt card – $349
APC – SU1400RMXLB3UNC – Extended Run Server UPS w/mgmt card – $399
APC – SUA3000R2X428 – 3kva UPS System w/mgmt card – $695
APC – SUA2200XL – Extended Run Tower Unit for many apps – $795
APC – SURT6KRMXL3U-TF5 – 6kva Dual Voltage Online UPS – $1895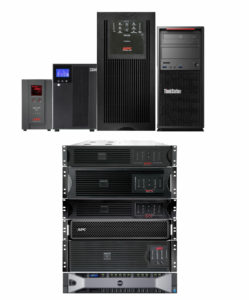 Give us a call at 954-633-5353 or fill out the form below to request more information
"Just got a gaming computer from the owner and staff, they're really good people making sure you get the best value you want for an reasonable price. Recommend you guys to go and check them out. They're legit and very professional you wont regret a second there. Preston and staff got my gaming computer popping and I thank him for that greatly."